I should have written this awhile ago… And better late than never, just sounds like bullshit so I'll just get started.
For those that didn't get the memo (as in damn near all of yall) MrMecc was added to the Our House tour and named the official opening act for Joell Ortiz, Crooked I, Joe Budden & Royce Da 5'9" a.k.a. Shady Records very own Slaughterhouse.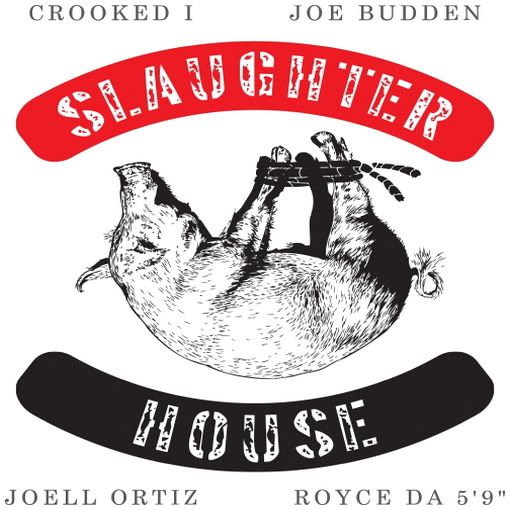 (Dramatic pause for applause….)
That's right true believers! After a lot of hustle and even more slick talking, the support YOU GUYS gave to my single #JBF and to #JumpOffTV put ya man on the radar of one of the most lyrical groups in existence. Now all I have to do is go out in front of a thousand plus people, used to high levels of lyricism, night after night and keep them happy and amped before four of the most gifted wordsmiths of the genre who were personally signed by Marshall Mathers hit the stage…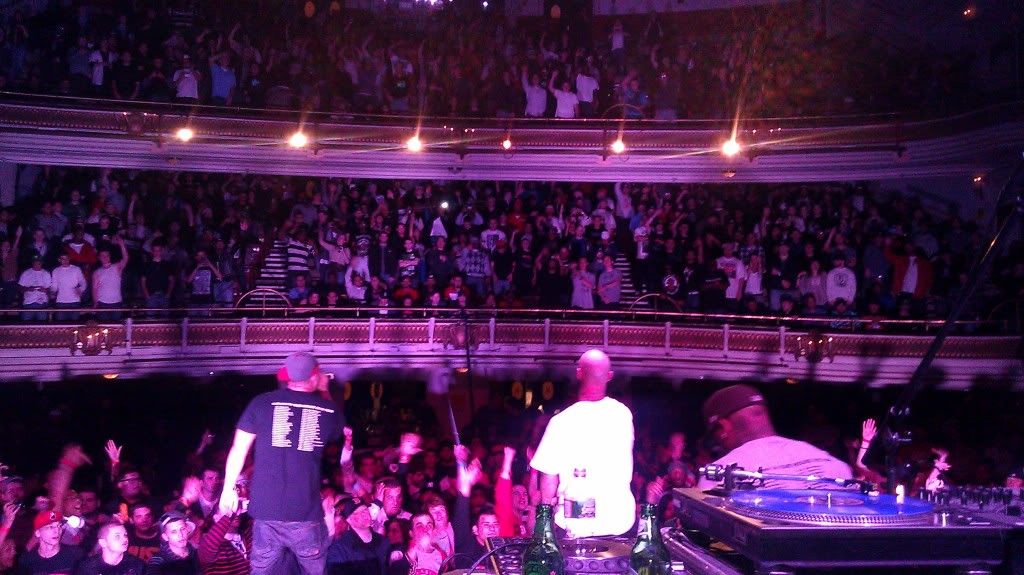 …Nah, no pressure though.
Now I've TONS of shows and the tour was 43 dates strong but there was something about The Wilbur Theater in Boston told me tonight was going to be special… It started off normal enough. After getting a fresh cut coutesy of the hometown hero @JThaS (#Salute) I hit the venue, told security who I was, got escorted over and grabbed my credentials from will call…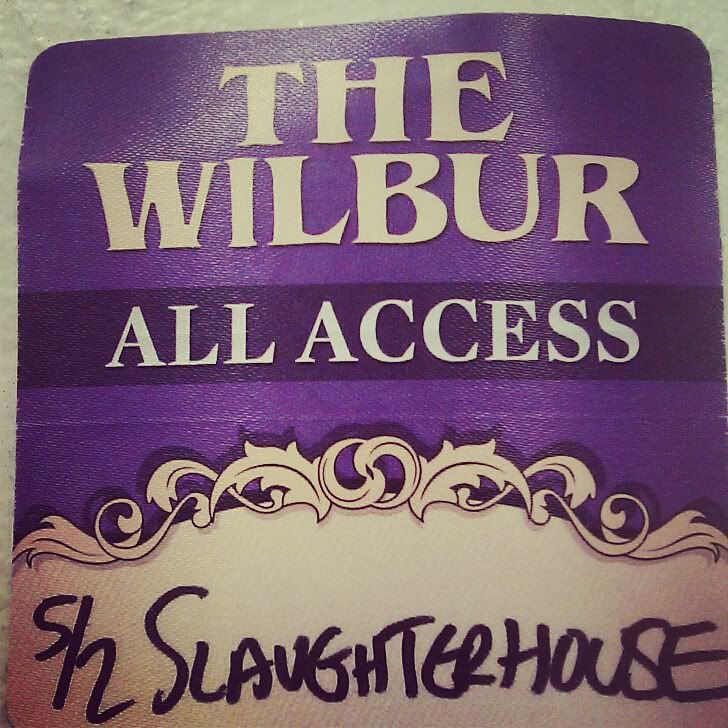 …slid over to the stage to double-check my set time..
and after pointing out and correcting a quick mistake (I had 20 min, not 15) everything was all gravy! The music was ready, the sound-system sounded good and the place was sold-out. I really couldn't have asked for anything more…
And then, it happened. I was sitting by the side of the stage about to crack open my bag when I got approached by one of the production hands. I was already reaching for my all-access pass when the conversation took a very, very unexpected turn…
"Excuse me, Mr Mecc?"
"Yep, That's me!"
"Hi! I'm Denise, I'm doing production for the show. How are you?"
"Oh nice to meet you! And I'm groovey thanks! What's the deal? Is everything ok?"
"Oh sure! I just wanted to see if you're ready to go to your dressing room."
"… I'm sorry, my… what?"
"We have your dressing room ready, let me show you to it…."
"Um, I'm not in Slaughterhouse…"
" Oh I know, theirs is downstairs. Just follow me."
Dude, the next thing I know, for the 1st time in my career, I was standing inside my own freaking dressing room!!!
Now there was no question I had some things I needed to do, swap gear, charge my phone, double check my songs.. but I'm not gonna lie. Before any of that I stood there for a few minutes and let the coolness of the moment sink in… and proceeded to CHEESE like my mama called me cute!!
I took full advantage, got nice and comfy and switched into my official custom show shirt, complete with my Twitter name, courtesy of my dude @Phetus88. I don't normally take pics of myself, but I figured being that I was in MY DRESSING ROOM and all… I could do that. #Swag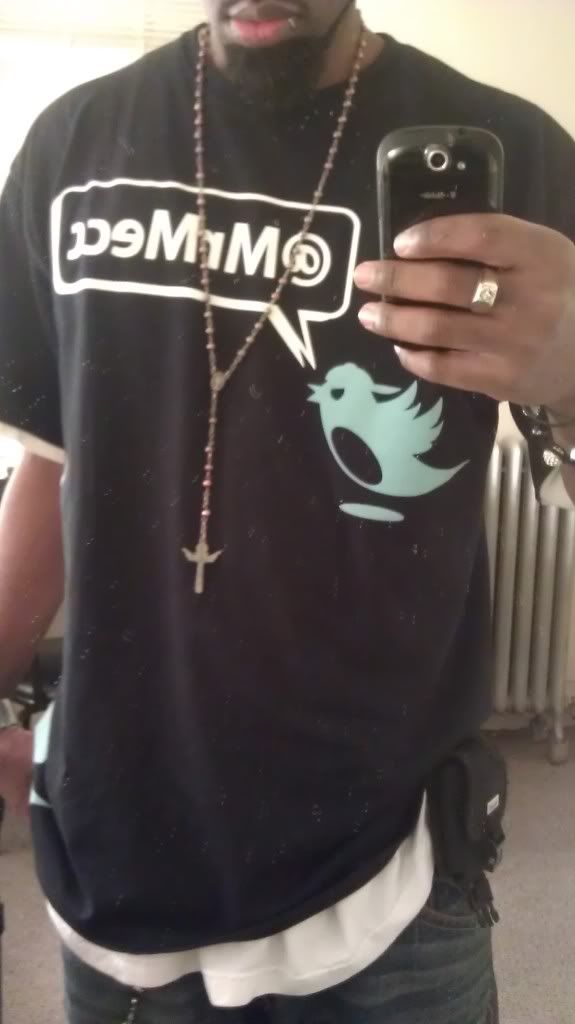 Yeah, I was FULLY on my Kanye mindset, the only thing that you could tell me was absolutey NOTHING. I know its seems like a small thing, but I couldnt help feeling like I was on the right track. My name on the door just felt like I was being… verified, if that makes any sense. After years of standing in other peopIes or sharing with other artist, I felt as if this space wasn't given to me, I'd earned my way into that room and now, I was gonna go on stage and prove it. I went in front of that crowd with a determination to earn my place with them too.
So After I did THIS…
…it was on to THIS…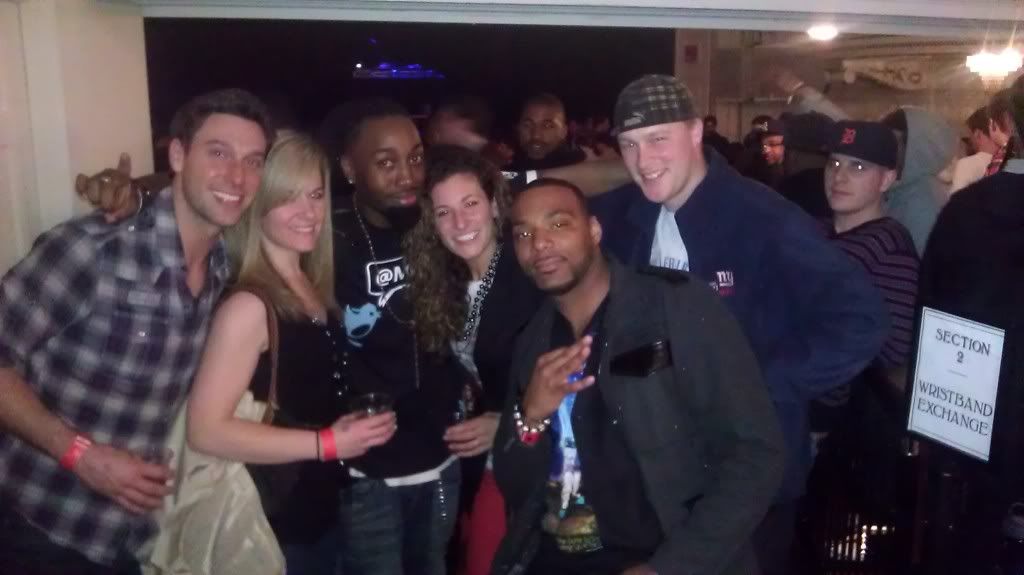 And THIS…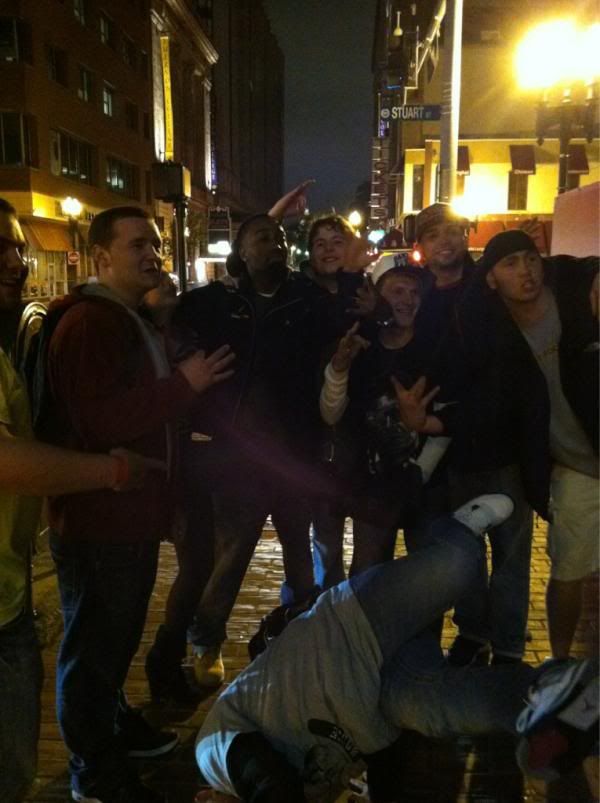 Which ended with THIS..
I think it's Mission Accomplished… what do YOU think?? LOL!
I'd need it, the next stop was kinda rough, but hey…
I Can Explain..!
Mecc